Dont Let Your Drain Clog Up Your Day
The bathroom is one of the most frequently used rooms in your home. And when your sink, shower or toilet gets backed up, it creates not only a mess, but a major inconvenience. So if you see water draining or flushing slowly, you need to take immediate steps to eradicate clogs.
HOW TO FIX BATHROOM CLOGS
The steps you take to fix bathroom clogs will vary depending on which drain is backed up. Below, you'll find some different types of clogs and ways to fix them. Additionally, we've got a list of items that can clog your drains, so you can try to prevent the problem in the first place.
A clogged sink will drain slowly, or not at all. Below, you'll find some tips to help clear out those pipes.
1. Clean the stopper: Soap scum, gunk and hair can collect on your sink stopper. Remove yours and soak it in hot water. Afterwards, you can clean the stopper using distilled white vinegar.
2. Plunge: Plungers aren't just for toilets; they can also unstop sinks and showers. Just make sure you're using one of the good ball-shaped models that you buy at a hardware store.
3. Remove the drain trap: If you or someone in the house is fairly handy, you can try cleaning out the p-trap, which is the bendy pipe you can see under the sink. You'll want to turn off the water first.
4. Make a drain volcano: Pour 1 cup of distilled white vinegar into the clogged drain. Then, gently sprinkle ½ cup baking soda into the drain. Plug that up immediately, and let it sit for about 15 to 30 minutes. Afterwards, remove the plug and flush the drain with very hot water. Note: If you use this method and your sink is still clogged, do not follow up with a commercial drain cleaner. The resulting chemical reaction can be extremely hazardous to your health
If you notice the toilet seems to be flushing slower than usual, there's a good chance you have a clog. Here's how to get that forceful flush back:
1. Try a plunger: As with the sink, we mean a solid plunger like you'd find at a home repair shop. Only flush once after plunging. Otherwise, you risk overflowing the toilet. If it's still flushing slowly, move on to the next step.
2. Break out the snake: Snakes can help you remove clogs that a plunger can't extract. You can pick one up at the hardware store, and find instructions on how to snake a drain online.
3. Call a plumber: You probably don't want to try to remove the toilet yourself to see what's clogging the drain. If plunging and snaking didn't render any results, it's time to call in the professionals.
Every time you brush your teeth or wash your hands, you're sending things down your sink that form into soap scum and have the potential to cause a clog one day. These items include:
Emollients and moisturizers
Floss
Hair
Skin flakes
Soap
Toothpaste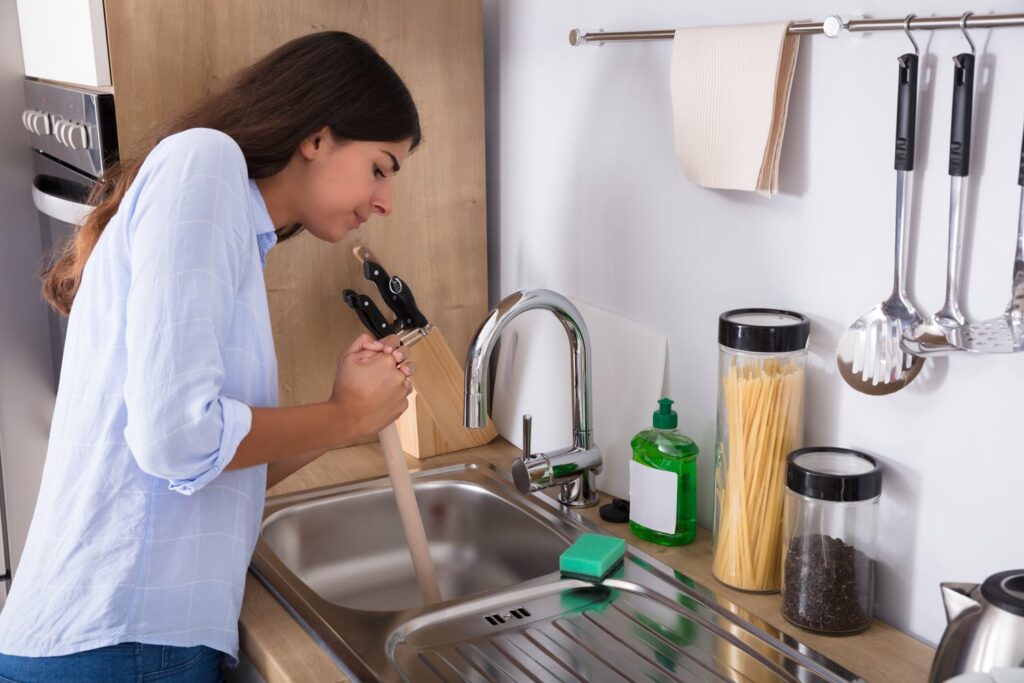 Things That Will Clog Your Toilet
Can You Flush Cigarette Butts Down The Toilet?
Many people mistakenly believe that there is no harm in flushing cigarette butts down the toilet. Not only can cigarette butts potentially clog your pipes, but they are also filled with dangerous chemicals that can leach into and contaminate the water supply. You should never flush your cigarette butts down the toilet!
Bathroom Wipes
These have become an increasingly popular alternative to normal toilet paper, but even "flushable" wipes can create clogs and back up sewer systems. These types of wipes may go down the toilet, but sanitation officials say they don't degrade after they flush and cost city sanitary systems thousands, if not millions, of dollars to repair city pipes and septic tanks.
Hair
Just because hair is a natural part of your body doesn't mean it's safe to flush. Hair can clog up any drain, including that in your shower, sink, and toilet. When hair goes down the toilet, it clumps together and forms blockages in your plumbing system.
Fats, Oils, and Grease
You may have flushed fats, oils, or grease down your toilet, but this practice can cause serious plumbing issues. While these fatty substances generally flush as liquids, they eventually cool and create buildup on the sides of pipes. These buildups eventually form blockages.
Disposable Diapers
Even though they contain human waste, diapers are not made to go in the toilet. In fact, disposable diapers are made with toxic plastic that expands when exposed to water. If you do manage to get the diaper down the toilet, you may soon find it stuck in your pipes, leaving a dirty mess on your hands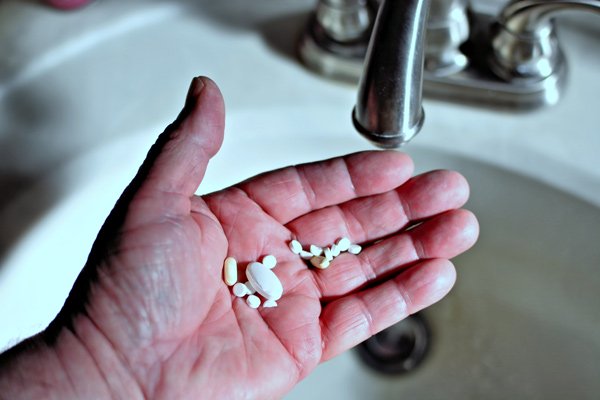 Never Flush These Things Down the Toilet
Too Much Toilet Paper
Yes, toilet paper belongs in the toilet—but to a point. Use a reasonable amount of TP and your plumbing will be fine. But if you start tossing excessive amounts into the bowl, chances are you're going to not only wind up with a quick-fix clog but, over time, some serious issues.
Paper Towels
These are one of the most common sources of clogs. Many people consider them to be in the same category as toilet paper—but they aren't. Unlike toilet paper, paper towels are not designed to break down when they get wet. In fact, most are designed for the exact opposite purpose—to stay strong when mopping up liquid messes. While that's great for cleaning, it also makes paper towels a nightmare for your plumbing.
Medicine
Flushing old or unwanted medication down the toilet can, again, seem like a simple way to safely dispose of potentially dangerous or expired pills, capsules and tablets—but doing this often causes more harm than good. These medications can seep into waterways and enter the systems of fish and other creatures, causing major damage along the way.
Wipes
While many baby wipes and personal hygiene wipes say "flushable" on the package, they're actually not flushable at all. These wipes don't break down when wet. The proof? They're wet inside the package, and they don't break down, even after months or years—same when you flush them. These are one of the most common causes of plumbing blockages we see.
Cigarettes
Flushing cigarette butts might seem like the safest way to make sure they're fully out, but those cigarette butts ultimately end up in the water, contaminating rivers and lakes as well as the environment. They can also do damage closer to home, clogging up your toilet in less time than you'd imagine.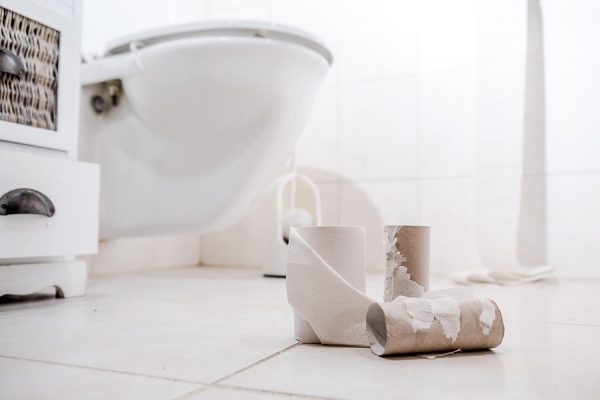 THINGS THAT SHOULD NEVER GO DOWN THE DRAIN OR TOILET
Before you put anything down the drain remember, it could end up in your drinking water. As we live increasingly busier lifestyles, looking for shortcuts along the way is natural. But sometimes those shortcuts don't save us any time at all and ultimately end up costing us hundreds – or thousands – of dollars.
That's especially true with a delicate plumbing system and why it's important to be aware of the many household items you should never put in a sink or flush down the toilet. Look, we've all been there. We're trying to prepare dinner for the family and clean up the mess left behind, so we just dump the grease in the sink. Or, someone is coming over to visit and – in a rush – we try to flush the cat litter down the toilet.
Medications and Pharmaceuticals
Any unused or unwanted prescription or over-the-counter medications should never be flushed down the toilet or drain. Studies have established that medicines flushed down the drain can contaminate lakes and streams, which can harm fish and other wildlife, and often end up in our drinking water.
Chunk Waste
Big chunks of waste – such as sand, plastics, toys, animal parts, grass, goldfish, metals and cat litter – should never be flushed or disposed of down the drain. Seems obvious, doesn't it? You'd be amazed at what we find in clogged drains. That includes whole meals kids have dumped off their plates and flushed down the toilet.
Tampons and Sanitary Napkins
Tampons and pads are meant to absorb moisture and expand. They don't dissolve in water. They get stuck in plumbing systems all the time and clog toilets and drain pipes. That means more work for us plumbers, but needless expense for homeowners
How to unclog toilets: advice from an expert plumber
It's every homeowner's worst nightmare. You're going about your day conducting your business when suddenly, disaster strikes: your toilet is clogged. You flush, as normal, but this time, the waterline rises. And rises. And keeps on rising
Water approaches the brim – it might even overflow, spilling out onto your bathroom floor! That's when you start freaking out. Just what are you going to do? While your local plumber is always on-call in case of emergencies, there are ways to provide temporary relief until a professional arrives
Home solutions while you wait for professional diagnosis
You'd be surprised at the things we've found clogging up people's toilets! In many cases, toilets can be clogged by a whole range of everyday items – some of which are even marketed as "flushable".
Here are some of the usual suspects when it comes to toilet blockages:
Poor-quality tissue paper
Sanitary napkins
Paper towels
Cat litter
Wet wipes
Tissues (believe it or not!)
Cotton buds
Take the plunge(r)!
When it comes to unclogging toilets, plungers can be one of the most effective weapons at your disposal.