Electrical Upgrades for DIYers
Many homeowners who think nothing of tackling painting, carpentry and plumbing projects turn timid when it comes to electrical work. A little fear isn't necessarily bad when dealing with electricity — it could keep you from making a serious mistake. But that doesn't mean there aren't electrical projects you can handle. All you need is an understanding of how the electrical code applies to your project and some instruction on making proper wire connections.
To safely guide you through this upgrade, we enlisted the help of electrical contractor Peter Eng, owner of Electrical Enterprises Incorporated in Litchfield County, Connecticut. It took him a day to complete all three projects. To facilitate your work, we've included photographs that outline the basic steps and illustrations that show all the wiring connections. Consult with an electrician if your home is wired differently than the ways illustrated
If you're still not feeling confident, here's an alternate approach: Run cables, install boxes, and wire in switches and outlets, then hire an electrician to make the final power hookups and check for any code violations. (Most municipalities allow you to do your own electrical work, though you're never allowed to wire someone else's home.) Also, get the proper permits from your local building department before starting. It's the law, and you'll also get the benefit of having your work checked both at the rough-in stage and when it's completed.
Installing a Floodlight
Light up your life — or at least your backyard — with a floodlight. Our installation solves a common problem: A deck without adequate lighting for itself, a staircase, or the adjacent yard. The solution called for installing a two-lamp floodlight ($12) high up on the house wall. As with most electrical upgrades, this one relies on tapping into an existing circuit. If you're not sure whether or not a circuit can support the upgrade, check with an electrician. An overloaded circuit is a fire hazard.
Choose a location for the floodlight on the outside of the house and bore a 1-inch-diameter hole through the wall and into the attic. Next, pick a spot for the wall switch that will operate the floodlight. The best location is directly above an existing wall outlet near the door that leads outside. Pull the wall outlet from its box but don't disconnect it (the power should be off now). Push a snake up inside the wall to make sure there aren't any obstructions. Then, cut a switch hole into the wall about 34 inches above the outlet.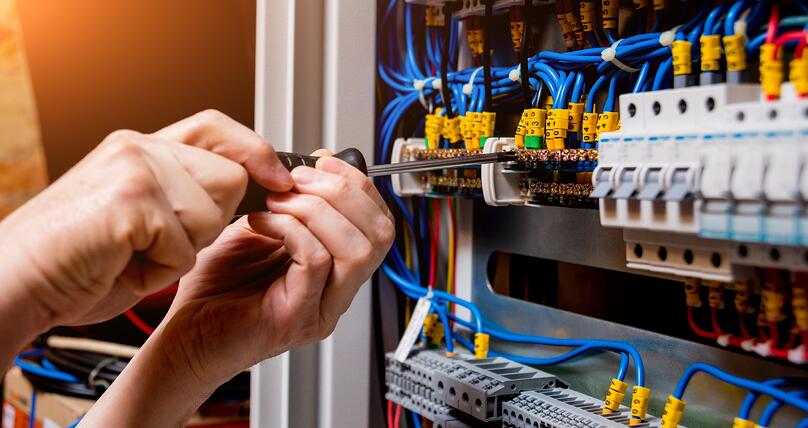 Reasons You Need to Upgrade Your Home Electrical System
The electrical systems in a home are usually ignored by most people—until something goes wrong, at least. When a home electrical system suddenly fails, that's when people start to take notice and try to find ways to fix it. However, it can pay to hire electrician services to make some electrical upgrades to your home sooner rather than later.
To Bring Your Home Electrical System up to Code
Building codes may vary from one year to the next, and new safety standards may have been implemented since your home electrical system was installed or updated last. Performing an electrical upgrade can help bring your home's wiring back in line with current building codes.
To Prevent Fire Hazards
When electric system maintenance falls behind, there is a risk that frayed wires and other issues can create fire hazards. So, one reason to upgrade your home electrical system is to minimize fire risks.
To Meet the Power Needs of New Appliances
The average household consumes a lot of energy—and that amount is likely to rise as more and more modern technologies rely on electricity. In fact, according to data from the U.S. Energy Information Administration (EIA), "In 2017, the average annual electricity consumption for a U.S. residential utility customer was 10,399 kilowatt hours (kWh), an average 867 kWh per month."
To Add New Outlets for Added Convenience
Here's a common problem: you want to move your TV to a different wall, but there aren't any outlets near where you want to put it. Maybe the house is old enough that electrical outlets weren't a major concern or the designer had a specific layout in mind that you don't want to conform to. Either way, the lack of electrical sockets is going to be inconvenient for your plans.
Electrical Upgrades to Consider This Fall
Electrical Services should be your number-one destination this fall if you are looking to eliminate electrical hazards, better the performance of your electrical system, and most importantly, keep your family safe. With cooler temperatures and shorter days on the horizon, the last thing you want is outdated electrical features that will result in frequent power loss and a higher risk of electrical fires or shocks. Without these electrical upgrades you may even see your property decrease in resale value.
Electrical Upgrades for You
While there are numerous upgrades for you to consider this upcoming season, some are absolutely essential to the overall level safety and convenience in your home
GFCI Outlets: When you install a ground fault circuit interrupter in your home, you are not just guaranteeing better electrical performance; you may even guarantee you save a life or two. Perhaps that sounds a little over-the-top, but it is the truth. A GFCI outlet will greatly reduce your chances of falling victim to accidental electrocution. It is an incredibly helpful tool, especially when you consider that the American Burn Association reports that 400 deaths occur each year due to shock. Think of this upgrade as adding a gatekeeper to maintain the flow of input and output current in your home. Thanks to a built-in circuit breaker, the GFCI outlet will cut off power altogether once it detects something irregular between the input and output, single-handedly preventing shocks. These outlets should be installed in areas of your home like bathrooms and garages, where the risk of water mixing with electricity is higher.
Outlet & Switch Replacement: Have you taken a look at your home's outlets and switches recently? Are they looking damaged beyond the point of repair? Well, it may be time for replacement, for the sake of safety and convenience. Some older homes are still equipped with two-prong outlets, which would be a reliable source of electrical power if it were still 1966. But in 2016, you need reliable three-prong outlets that will be able to meet all of your electrical power needs. Outdated outlets & switches are incredibly unsafe, so do not play any games with your safety and instead replace them with something new.
Aluminum Wiring Replacement: Similar to two-prong outlets, many older homes are also still equipped with aluminum wiring. Again, in 1966, this would have been fine, especially since aluminum was considered an acceptable wiring alternative due to the rising price of copper. However, fast forward 50 years in the future, and aluminum wiring is now considered a safety hazard. If you are living in of these unlucky homes, it is time to make the upgrade to copper wiring instead.
Smart Electrical Upgrades for Home Remodelers
If your home needs a makeover, or you're simply planning to upgrade your decor, appliances or any other aspect of your living quarters, now is the best time to consider upgrading your home electrical system, as well. Home repair and remodeling projects often require some electrical work. As long as the electrician is on hand, you can usually save the cost of a service call by adding to the job as needed If you haven't planned electrical upgrades, a quick look around your house might convince you that you should. Do you have receptacle outlets overburdened by multi-plug strips? Are your lamps and fixtures connected to extension cords? Does every three-prong plug need a two-prong adapter? These and other warning signs indicate a real need for electrical improvements. Unfortunately, many homeowners wait until a problem occurs, and only then do they think to call in an electrician. But there's along list of reasons why you should inspect and improve your electrical system-before an accident or service breakdown occurs. Here are a few points to consider
Is your service adequate? Many older homes still operate with seriously outdated 60-amp electrical service-and sometimes with just a few fuses or circuit breakers to protect the entire system. Newer homes often have 100-amp service panels, but even this minimum requirement set by many current codes may fall short of your present or future needs. Consider upgrading service to 200 amps.
Size for extra demand. If you're installing a major electrical appliance, like an electric wall oven, a microwave oven, a double-wide refrigerator or central air-conditioning, you'd better think about the additional power it may need. While a salesman or installer might tell you that your system can handle the load, be smart and ask your electrician for a second opinion.
What's the correct wire size? Electricians often install 14-AWG wiring during renovations, which is adequate for most home uses. But heavier 12-AWG copper wire is a better choice because it's more energy-efficient and you won't have to upgrade all over again if you install appliances or fixtures with greater electrical loads. The cost difference for upgrading to 12-AWG copper wire is minimal. If you're adding a room extension or building a new home, it's a good idea to install 12-AWG wire (or larger, depending on the needs of each circuit).
Consider special needs. Different rooms in a home serve different purposes-an important consideration when you're planning improvements, especially where electrical work is involved. Family rooms, home offices and home theaters generally need more circuits, more outlets, and built-in or plug-in power-surge protection. Outlets in kitchens, baths, garages and outdoor areas require ground-fault circuit interrupters, or GFCIs. And you don't have to wait for a major renovation to add protection-you can install many safety devices yourself, such as outlet caps, switch guards and wire shields in nurseries and children's playrooms.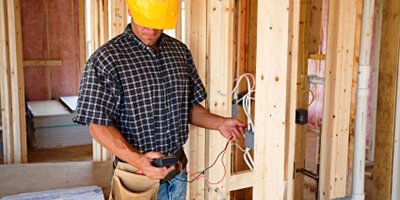 ELECTRICAL UPGRADES
Electrical upgrades to your home aren't the first thing that you might think about when you consider a remodeling project. After all, it's much more interesting to think of adding an extra room or upgrading your kitchen appliances and countertops. However, upgrading your wiring can be an extremely beneficial thing to do, and in some cases, it might be a safety priority.
REASONS YOU MIGHT NEED AN ELECTRICAL UPGRADE
You might need upgrades to your wiring or other electrical systems in your home for many reasons, but here are some of the most common.
COMMITMENT TO CUSTOMER SERVICE
No matter what electrical upgrades you need, the electricians from our Kankakee store are here to make sure you get the job done right. Our commitment to customer service means that you get the following when you choose Home Furniture, Plumbing & Heating for your electrical work
FRIENDLY, RESPECTFUL SERVICE
We aim to be both friendly and respectful in the way that we interact with you at all times. We want you to feel comfortable and at ease, and we want you to feel that your questions and comments will always be heard and answered.
ON-TIME SERVICE
Part of keeping our word is keeping our appointments, and we aim to offer you on-time service for your appointments that you set with us