Laminate Flooring
Laminate Flooring is a popular choice among homeowners and business owners because it gives you everything you would want in a flooring material: Beauty, durability, ease of installation and maintenance, all at an affordable price
There are many benefits to having laminate flooring. It can accentuate the design of your home and create a look and feel of sophistication and elegance. Laminate flooring is nice to walk on and if you have pets, they can walk on it as well!
Durability
Other than melamine resins, some types of laminate flooring are coated with aluminium oxide. Both substances make laminate flooring highly durable. It will hold up against scratches and dents.
Stain Resistant
Laminate flooring is recommended for homes where pets live indoors. This is because its top coat is either water-resistant or water-proof completely.
Easy To Clean And Maintain
Did a guest spill wine or coffee on your laminate flooring? Simply clean up the spill with a dry, clean mop.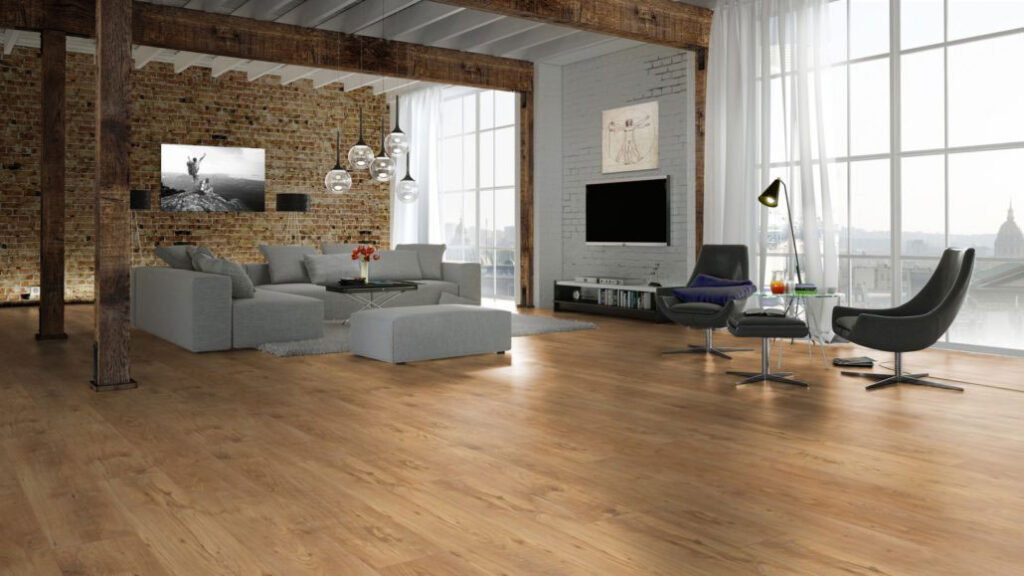 REASONS TO CHOOSE LAMINATE FLOORING OVER HARDWOOD
Many homeowners appreciate the aesthetics of hardwood floors, as they add quality and value to living spaces and give homes a modern, refined look. It's also made from real wood, so it's built to last for many years and gives your home a gorgeous appearance. Laminate flooring is made to closely resemble hardwood floors but is not made from authentic wood. However, its many benefits make it an excellent choice for new floors. What follows are some of the benefits of choosing laminate floors over hardwood.
Price
Laminate flooring is much more affordable than hardwood, as it's not made from trees. Instead, composite wood is pressed together at high temperatures to create it, and then an image of hardwood is overlayed on top of the flooring. As a result of this process, the laminate flooring looks nearly identical to the hardwood at a fraction of the cost. Decent quality laminate costs about $3/square foot, as opposed to hardwood floors that typically cost between $3-$5/square foot for lower end oak, maple and ash materials. Higher-end wood floors go for $5/square foot or higher. The installation costs of laminate flooring are on average 50 percent less than the cost to install hardwood floors
Ease of Install
Laminate floors can be installed yourself. It requires no glue or special tools. Most laminate flooring that resembles hardwood floors is snapped together in modular pieces. This is easy to do yourself and doesn't require a professional. Hardwood floors, however, are harder for people to install themselves because special tools and techniques are needed to do it successfully. Tools such as a floor stapler are needed and although they may seem easy to use, there's a definite learning curve for how to operate them properly.
More Suitable Environments
Laminate flooring can be installed in rooms that are partially moist, such as bathrooms and kitchens. However, hardwood floors can never be installed in bathrooms because it will warp and crack in response to surrounding moisture. Some types of the laminate can even be installed below grade in basements. Hardwood flooring does not have this same flexibility because it can't withstand the moisture buildup.
Pet-Friendly
Laminate flooring is an ideal material to use for flooring in a house with pets. It provides great scratch resistance against cat and dog claws. In addition, by purchasing a thicker laminate floor at about 12mm, you can avoid the click-clack sound produced by a dog's claws. Its naturally slick surface resists damage and dings. Hardwood floors, on the other hand, tend to scratch easily and ruin its surface.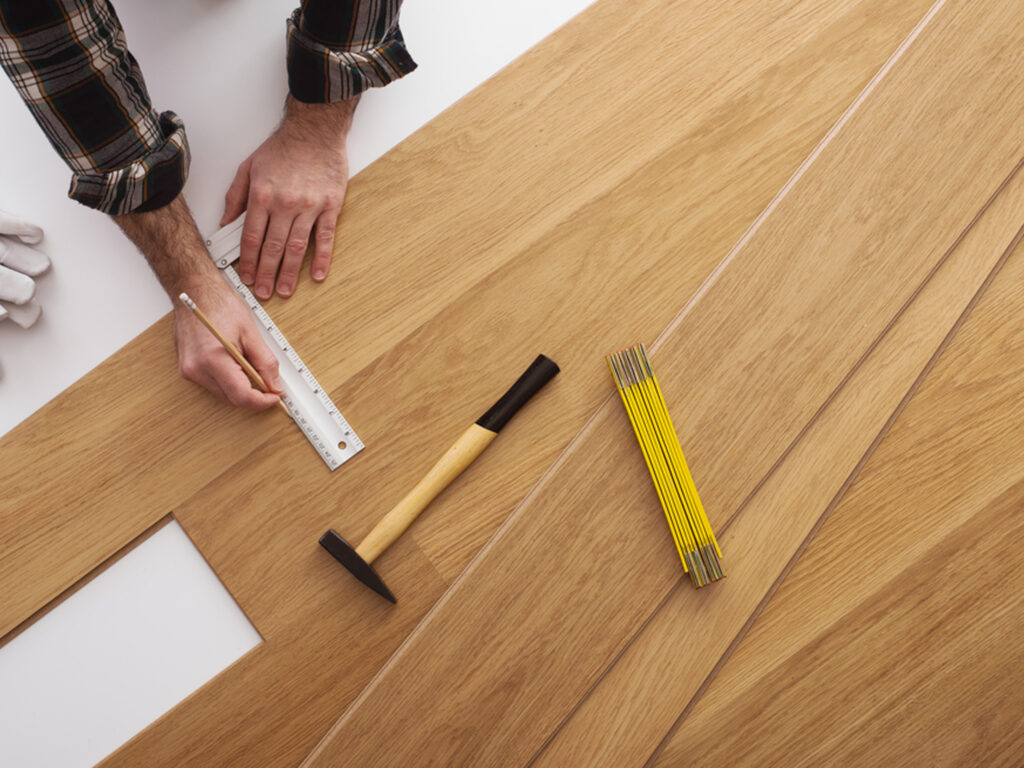 Why You Should Choose Laminate
If you're dreaming of hardwood floors in the bathroom but having nightmares about the cost, take heart. You can get the look of wood with laminate, which closely mimics the texture, color and graining of real woods. Laminate can withstand drippy towels and stand up to heavy traffic and dropped curling irons. It also resists even the toughest stains, from makeup to nail polish.
Some manufacturers do not recommend putting laminate in the bathroom due to the worry of water damage. Review manufacturer installation instructions and warranty information before choosing a laminate floor. If you choose it for the bath, carefully follow any special directions for installation and sealing, and take the utmost care to prevent water from seeping beneath the surface.
Texture. Laminate can look like real wood or even tile. For a more realistic wood appearance, the surface can be hand-scraped, distressed, and covered with authentic-looking knots and wormholes. And you can get laminate that looks like anything from polished marble to timeworn slate.
Finish. Laminate is prefinished and available in glossy or matte coatings
Shape. Laminate comes in strips or planks that mimic wood, or squares that look like tile. They can be laid in nearly any pattern, such as herringbone or subway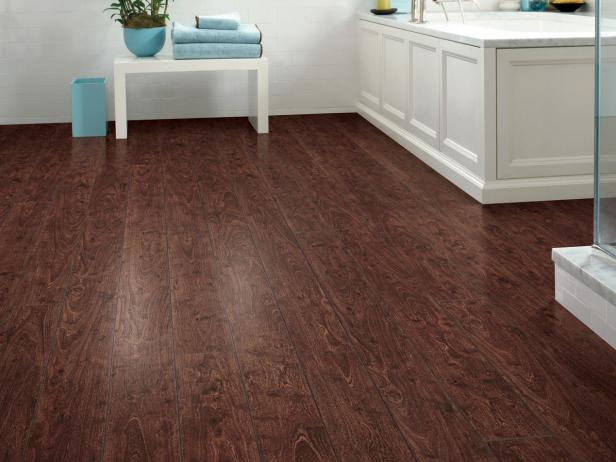 Reasons to Choose Laminate Flooring
When it comes to remodeling the floors in your house, it can be overwhelming to determine which flooring is the right option for your needs. While you most likely know what you do not like, which can help to narrow down the field, there still is a wide variety of choices left for you to sort through.
Bang for Buck
As mentioned above, laminate flooring is extremely budget-friendly. However, it is also incredibly sturdy and durable, giving you the most bang for your buck. What's more, it is nearly impossible to visibly tell the difference between hardwood and laminate, thus it offers you the style and sophistication of hardwood without the hefty price tag
Durability
Just how durable is laminate? Laminate is typically constructed of four layers of material. These materials are fused together to create a soft, comfortable flooring that is resistant to sharp pet claws, heavy foot traffic, and even cooking and water spills. It's durability makes it a great choice for hallways, kitchens, bathrooms, and even living rooms
Installation
Installing laminate flooring is not a lengthy process, which means minimal renovation disruption. One of the hardest parts of surviving a home remodels is dealing with the constant ruckus contractors and construction projects can have on your home and daily routine. Laminate flooring can be installed fairly quickly by a professional team. If you are looking for local companies, try searching for laminate floors in Utah or whatever location you are in. This can help narrow down your search to your local area.
Care
Laminate flooring does not take a lot of work to keep clean or well maintained. Dust can be seen clearly, making it easy to sweep up. Any types of spills, from food to water to even nail polish, should be wiped up as soon as possible; however, as mentioned above, the flooring is fairly durable, so spills should not leave a stain if cleaned up relatively soon. Laminate can be vacuumed and can also be wiped clean with a damp cloth or mop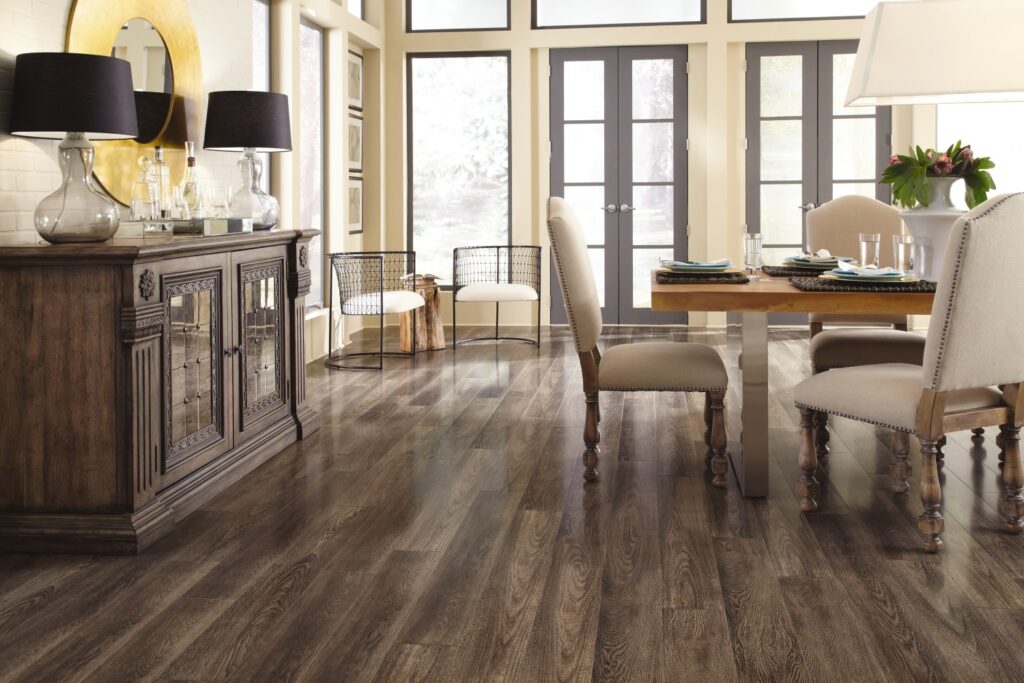 What flooring is right for you?
Laminate
laminate floors look and feel just like real wood but offer outstanding durability and strength from an expertly engineered design.
Hardwoods
hardwood floors offer the beauty of natural wood with the convenience and durability of Pergo. Choose from a variety of styles and widths with engineered hardwood or solid hardwood construction.
Rigid Vinyl
rigid vinyl flooring stretches the imagination with sixty deep looks featuring authentic texture and extreme detail, in both wood and tile visuals.