Why It's Important to Choose the Right Dentist
Your dentist is a health care provider, similar to your personal physician. As you know the importance of choosing the right doctor, the same is true for your dentist.
You may be surprised to learn how many adults do not visit the dentist unless they have an emergency. In many cases, it is not because they cannot afford it, or cannot fit appointments into their schedules. Many people avoid the dentist because of bad experiences they had when they were young.
What If You Need Dental Treatment?
Under ideal circumstances, your experiences with dentistry will include twice-annual exams and cleanings. You will have a dental professional to answer your questions. However, choosing a dentist is also important when you need any type of dental treatment or dental work.
You want a dentist who is fully qualified to treat your particular dental issue. Whether you need implants, a filling for a cavity, or root canal therapy, a dentist's training and experience will make a difference. Your treatment can be completed without complications, and the least amount of difficulty for you.
You can look at choosing a dentist the same as choosing a personal physician. When you are looking for a dentist who will meet your needs today and in the future, make an appointment to meet the dentist in person. When you see his overall attitude and professionalism helps you feel comfortable and confident, your oral health care will always be a positive experience.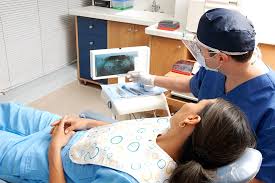 Finding a Dentist
When you're searching for a dentist, the American Dental Association (ADA) offers these suggestions:
Ask family, friends, neighbors, or co-workers for their recommendations.
Ask your family doctor or local pharmacist.
If you're moving, ask your current dentist to make a recommendation.
Contact your local or state dental society. The ADA provides a list of local and state dental societies on its web site, www.ada.org. Your local and state dental societies also may be listed in the telephone directory under "dentists" or "associations."
What Should I Look For When Choosing a Dentist?
You and your dentist will be long-term oral health care partners; therefore, you should find someone you can be comfortable with. To find a suitable dentist to meet your needs,
consider asking the following questions as a starting point:
What are the office hours? Are they convenient for your schedule?
Is the office easy to get to from work or home?
Where was the dentist educated and trained?
What's the dentist's approach to preventive dentistry?
How often does the dentist attend conferences and continuing education workshops?
What type of anesthesia is the dentist certified to administer to help you relax and feel more comfortable during any necessary dental treatment?
What arrangements are made for handling emergencies outside of office hours? (Most dentists make arrangements with a colleague or emergency referral service if they are unable to tend to emergencies.)
Is information provided about all fees and payment plans before treatment is scheduled? If you are comparison shopping, ask for estimates on some common procedures such as full-mouth X-rays, an oral exam and cleaning, and filling a cavity.
Does the dentist participate in your dental health plan?
What is the dentist's office policy on missed appointments?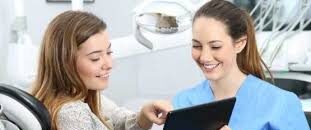 How to Find a Good Dentist
KAREN VASSO, A 43-YEAR old farmer from Chelmsford, Massachusetts, takes good care of her health. In addition to the copious amounts of physical exercise she gets while working, she's an avid swimmer and triathlete, who's completed a few solo 12.5-mile swims around Key West in Florida. She also has a background in nutrition and knows that good dental health is an important aspect of overall wellness. She's long sought to make visiting a dentist regularly a priority. However, a couple of bad experiences over the years have caused her to think carefully about what makes a good dentist and how to find the right one for her
The first incident occurred several years ago. At the time, Vasso was a single mother and her health insurance wasn't terribly robust, so her options of which dentist she could see were limited. "I went to this quiet, dark office in the basement of a building" in a nearby town. The office was mostly empty, save for the dentist himself, and Vasso recalls thinking, "this is scary." Undeterred by her gut intuition, she went through with the appointment. "He cleaned my teeth and at the end he said, 'you have a cavity. I'm going to need you to come back for a filling.' I know my teeth. I have extensive knowledge about nutrition and how that affects dental health," and she says she suspected she didn't actually have a cavity
Fast forward a few years to a new town and new health insurance, and Vasso decided it was time to do something about the lack of routine dental care she'd had for the past couple of years and scheduled an appointment with a local dentist. She opted for "a very big chain dental practice" that was in her insurance plan and made an appointment for a cleaning. "They did a cleaning and a cursory exam and told me I had six cavities. It blew my mind – there's no way I have six cavities," she says, feeling outraged.
Before she was even able to get clarification on where and how severe these cavities were, she'd been herded to the front desk to settle her bill and make several more appointments for additional dental work. Vasso decided she didn't trust that dentist and made an appointment elsewhere for a second opinion. As suspected, that subsequent dentist confirmed she had no cavities at all, let alone six of them. "Can you imagine them drilling into my teeth for no reason? It blows my mind," she says.
When looking for a dentist, Cooper says you should seek one that practices close to your home or work and that has convenient hours. It's also important to consider any unique communication issues you might have. For example, "if English isn't your first language, do you need a translator? In my practice, I have a lot pf patients who are Japanese," she says, and although these patients "speak English perfectly well out in the world," when it comes to the specific or technical vocabulary of health care, having a translator to convey this information in a patient's native language can facilitate better understanding. "Sometimes having a translator there who can offer assurance about what's going on in your own language can be extremely important," she says. Arranging with the dentist ahead of time to have a translator available or bringing a friend or family member who's able to act as translator are both strategies you can employ to make sure you don't miss anything.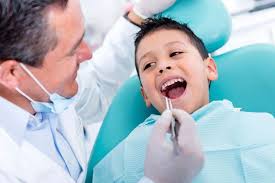 How to Find a Good Dentist: The Ultimate Guide
Moving to a new area? Not happy with your current provider but you need to schedule a dentist today? Don't settle for the first dentist you come across. You're putting your finances and your health on the line. The only problem is that it's easy to get lost when you see a myriad of dentists readily available to you.
How to Find a Good Dentist: Start with the Basics
Learning how to pick a dentist starts by checking the ones closest to you. Choose one that's near your home or your office, making it easy to visit if you use public transportation. Think of how you can get to it in case of emergency as well.
What Type of Dentist Do You Need?
Next, you also have to consider the type of dentist you want. Although a general dentist might refer to themselves as a cosmetic or family dentist, these are not official specialisations.
Ask for Recommendations from Friends and Family
Chances are, friends and family will happily suggest a good dentist that they are comfortable and satisfied with. Ask them specifics of what they like about their dentists to give you a better idea of their work.
Look for a Member of an Organisation
If you are relocating to a new city, your current dentist may have a recommendation too. Dentists working within an association could know someone in the city you're moving to.
Things to Look For When Choosing a New Dentist
Find a dentist with a good reputation
The first important consideration when looking for the perfect dentist is to check his or her reputation. There are several ways to research dentists and their practice history. One of the first things to do is to search online reviews to see what positive or negative experiences patients have had at their dentist. Websites, such as Angie's List, offer reviews from patients on dentists
Check your state dental board
Dentists are held accountable by their state dental board. Each state has a board of dentistry website that tracks the history of claims against a particular dentist. Make sure that the dentist you are about to see does not have any suspicious claims brought against them.
Interview your dentist
You need to interview your dentist or the dental practice, which is a simple as picking up the phone and asking the right questions. Find out where the dentist graduated, how long they have been practicing and what type of dentistry they do, how many staff members work there and how long have they been with that dentist.
Ask friends and family about their dentist
Ask your friends and neighbors where they go for dental work. There is no better way to find a great dentist than to find out who your friends and neighbors trust. Most people will not recommend bad service to you or advise you to see a dentist they are not pleased with.
Make sure your dentist meets your needs
Everyone has a certain criteria when they look for the right dental office. Some patients want a larger practice that sees a high volume of patients. Their time is valuable and they want to get in and get out. Others may seek a family-oriented practice that treats each patient as a part of their family. They want a doctor who will spend the time explaining things to them and not rush the appointment. Make the decision that is right for you.